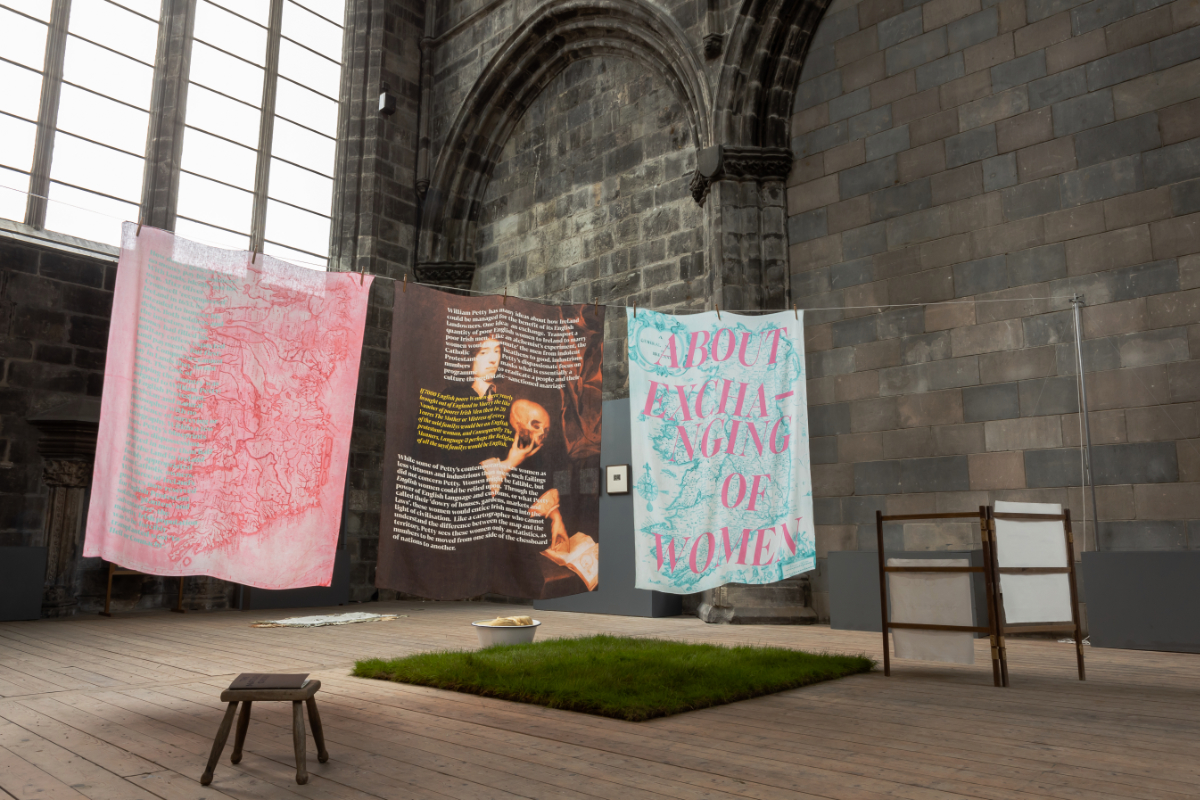 About Exchanging of Women
reactive print on Irish linen, cotton wash line, dolly pegs, 145cm x 180cm each, 2023
The Surveyor General
lye, oil, milk, water, enamel basin, 60 x 45cm, 2023
A Woman's Place
handmade linen rag paper, pigments made from ground iron ore, copper ore, red sandstone sourced in County Cork, Ireland, airing rack, various dimensions, 2023
All of England was Once a Lawn
Grass turf, 2m x 2.26m, 2023
The Natural Order
pamphlet, milking stool, various dimensions, 2023
In the 1670s, following Oliver Cromwell's "reconquest" of Ireland, English colonial administrators circulated among themselves a series of proposals for transmuting the"uncivilised" Irish into the "cultivated" English. 
Borrowing transmutation metaphors from alchemy, ubiquitous in 17th-century England, these administrators suggested that poor English women should be sent to Ireland to become forced wives of poor Irish men. This suggested "exchange of women"—as wives and mothers who would organise and "improve" households—was understood as a tool of imperial control that would ultimately transmute the Irish into English through the transmission of the colonisers' language and culture. The legacy of this and other examples of the use of women's bodies as tools of colonial and imperial control can clearly be seen today in women's continued struggles for equality, the end of gender-based oppression and for full and complete control of their bodies. 
This complex history, one often ignored or forgotten in England, forms the anchor point of my installation for Platform at the Edinburgh Art Festival. The project is part of my broader research into the imperial and colonial origins of Western natural sciences in conjunction with the English colonisation of Ireland, the work of the Hartlib Circle, and the later founding of the Royal Society. 
My installation centres on a specific list of propositions by English colonial administrators to transmute the Irish into the English: that the Bible should be translated into Irish; that wooden houses be made of stone in order to create better conditions for the fabrication of marketable products such as butter, cheese and linen; and that English women brought to marry Irish men should act as agents of colonial transmutation via "their dowry of houses, gardens, markets and laws".
Work created for Platform at Edinburgh Art Festival 2023. Exhibited at Trinity Apse, 11 – 27 August.
Installation photos: Sally Jubb